Outdoor Living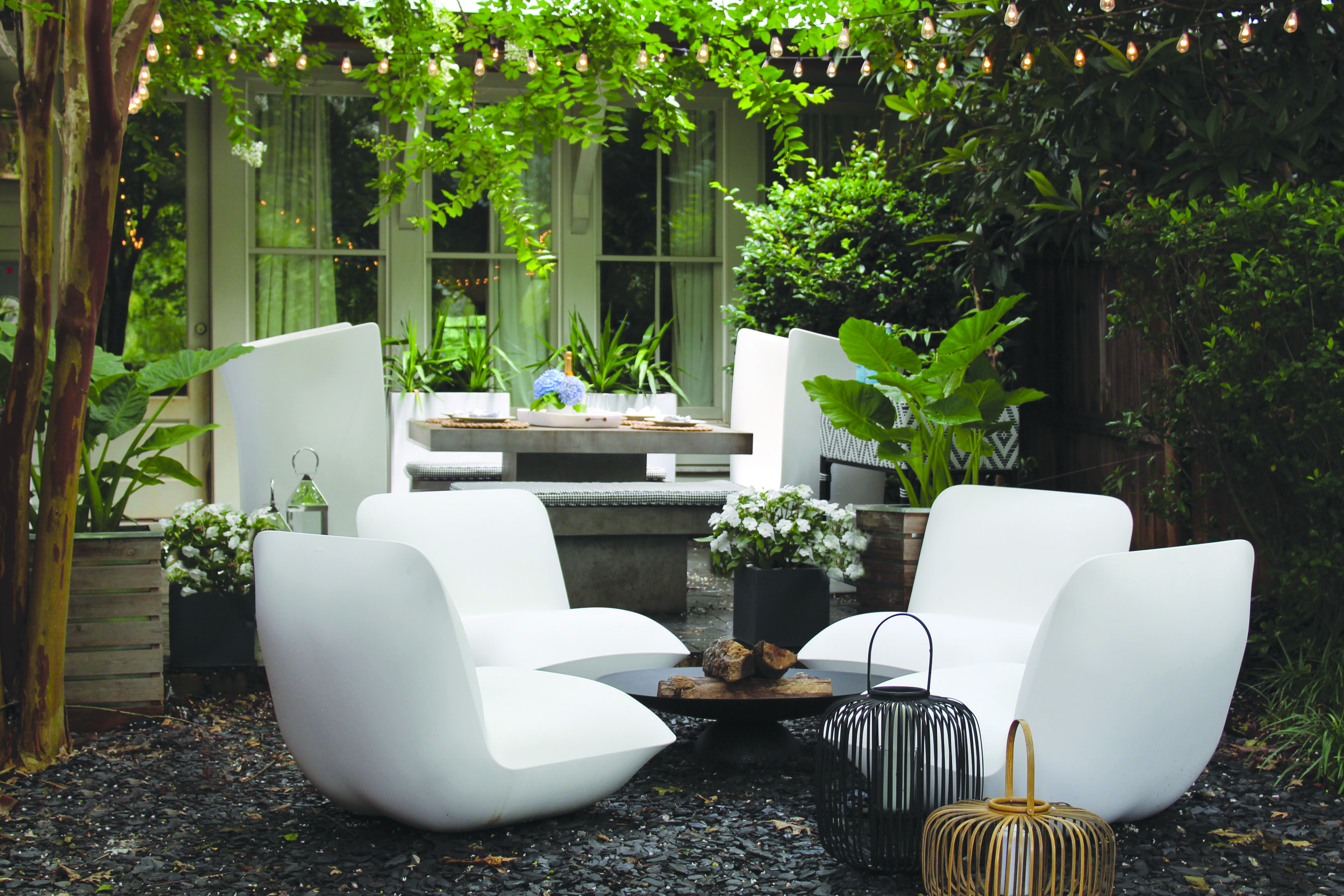 Now that we've Sprung Forward and the weather is warming, we're dreaming of days out in the sun and spring and summer nights spent on porches or patios. Maybe you and your partner by a romantic outdoor fire pit? Maybe a group of friends and family grilling out? No matter who you spend your season with, Serenbe is the best place to spend it outside.
"We tried to build the house into the environment as opposed to imposing on the environment," said Ron Simblist, whose home feels like an ultra-modern tree house. His living space has an expansive folding glass wall that transforms the room into the back deck.
Garnie Nygren and Matt Adolfi's open living space, (cover photo) designed by Mister and Mrs. Sharp, extends into their backyard with an outdoor entertaining area, complete with a dining table and lounging space centered under a crepe myrtle. Meghan and Patrick Sharp's own outdoor seating area (photo above) also uses natural colors to blend perfectly with the lush, green backdrop.
Serenbe resident and Zoetic founder Jeny Mathis designed every aspect of her home to allow the family of four to have a dialogue with nature on a daily basis. Her beautiful terrace-level seating area looks out past an outdoor dining space, meditation pool and walking labyrinth to the preserved woods of Mado; just a few of the home's amenities that exemplify outdoor living.
Master Gardener Wendy Murray has also made the most of her outdoors spaces, with a quaint garden designed from a fairy tale that includes a bespoke fence with a. trellis design for "friendly privacy," covered with Jasmine vines, camellias, magnolias and evergreens to name a few.
"Though it is a quiet and rather secluded space, with all the birds, butterflies, hummingbirds and more coming to the flowers, it is a very busy and alive place to be."
Wendy also chose to plant Lonicera vines, herbs and gardenias in an area close to her neighbors so they can enjoy floral scents throughout the year.
Walking through Serenbe you find that EVERY home blends in with its surroundings, and the site placement encourages residents to interact with nature on a daily basis.
Ready to realize your dream of living among the trees at Serenbe? Contact Serenbe Real Estate for more information.